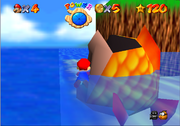 Bubba
is a large fish wearing sunglasses that appears in
Super Mario 64
,
Mario Golf
, and
Super Mario Sunshine
Super Mario 64Edit
This marks Bubba's first appearance in the series. Two Bubbas only appear in Tiny-Huge Island in the water. If they caught Mario swimming in their territory, they would swim up to him and eat him, causing Mario to lose a life, in a similar manner to that of Boss Bass. In the DS remake, the Bubbas were replaced by Big Berthas.
Ad blocker interference detected!
Wikia is a free-to-use site that makes money from advertising. We have a modified experience for viewers using ad blockers

Wikia is not accessible if you've made further modifications. Remove the custom ad blocker rule(s) and the page will load as expected.